Dove Cottage Nursery and Garden was conceived by us back in 1995. We opened Easter 1997. Our ethos has always been to enjoy our work, do a job to the best of our ability and use the best materials available. With this in mind over the years we have strived to create and maintain a 'special' nursery and garden which is home to a great range of perennials and grasses.

Our land is behind Dove Cottages on a north facing hillside enjoying panoramic views of Shibden valley, Chelsea valley and a hillside of mixed woodland.

The garden sits beside the nursery and is an intimate space enclosed by Yew hedges and green oak gates. Fully and beautifully planted with late summer flowering perennials and grasses providing flower well into the Autumn. The planting combinations are superb creating a look of wild beauty throughout Summer, Autumn and Winter.
Opening Times

Nursery Open

1st March to 29th June.

Wednesday to Sunday

10am-5pm & Bank Holiday

Mondays.

2nd July to 27th September.

Wednesday to Saturday 10am-5pm

Garden Open

4th June to 27th September.

Same time as the nursery.

During September we try to treat ourselves to a 'plant hunting trip'. In 2012 we visited nurseries and gardens in the Netherlands, Germany and Belguim see our face book page for pictures.

On these trips we buy 'mother' plants as they say in Holland for propagation, as the vast majority of our stock is home produced. We always return with new and interesting plants and seeds.
Mail Order
Please note that we no longer offer a mail order service. You can view or download our 2013 Catalogue as a pdf document, from our downloads page. If you would prefer to receive a printed copy of our current plant catalogue, please send a cheque for £1.50 to the address on our Contact page and we will be happy to post one to you.
Web site photographs
The beautiful images throughout the site are by kind permission of Marianne Majerus. More images at www.mariannemajerus.com.
Dove Cottage Nursery and Garden
Shibden Hall Road Halifax West Yorkshire HX3 9XA Tel 01422 203553.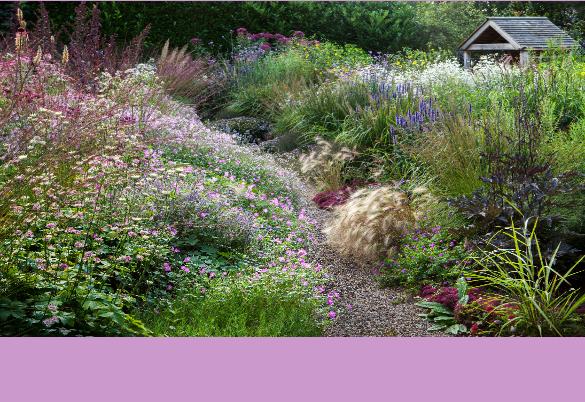 Dove Cottage Nursery & Garden
hardy herbaceous perennial plants
Photography copyright MarianneMajerus
News.
We appeared on BBC 2 The Great British Garden Revival Cottage Garden episode.
Gardens Illustrated featured our garden in September 2013 issue.